Congratulations!
At our 20th Anniversary Celebration on September 15, 2016, Workforce Solutions Brazos Valley recognized employers who have had a significant impact on growing the labor force in the Brazos Valley. This year the employer of the year award was separated into large employer (over 500 employees) and small employer (under 500 employees). We are proud to announce our 2016 Employer Award Winners are as follows:
2016 Large Employer of the Year
Kent Moore Cabinets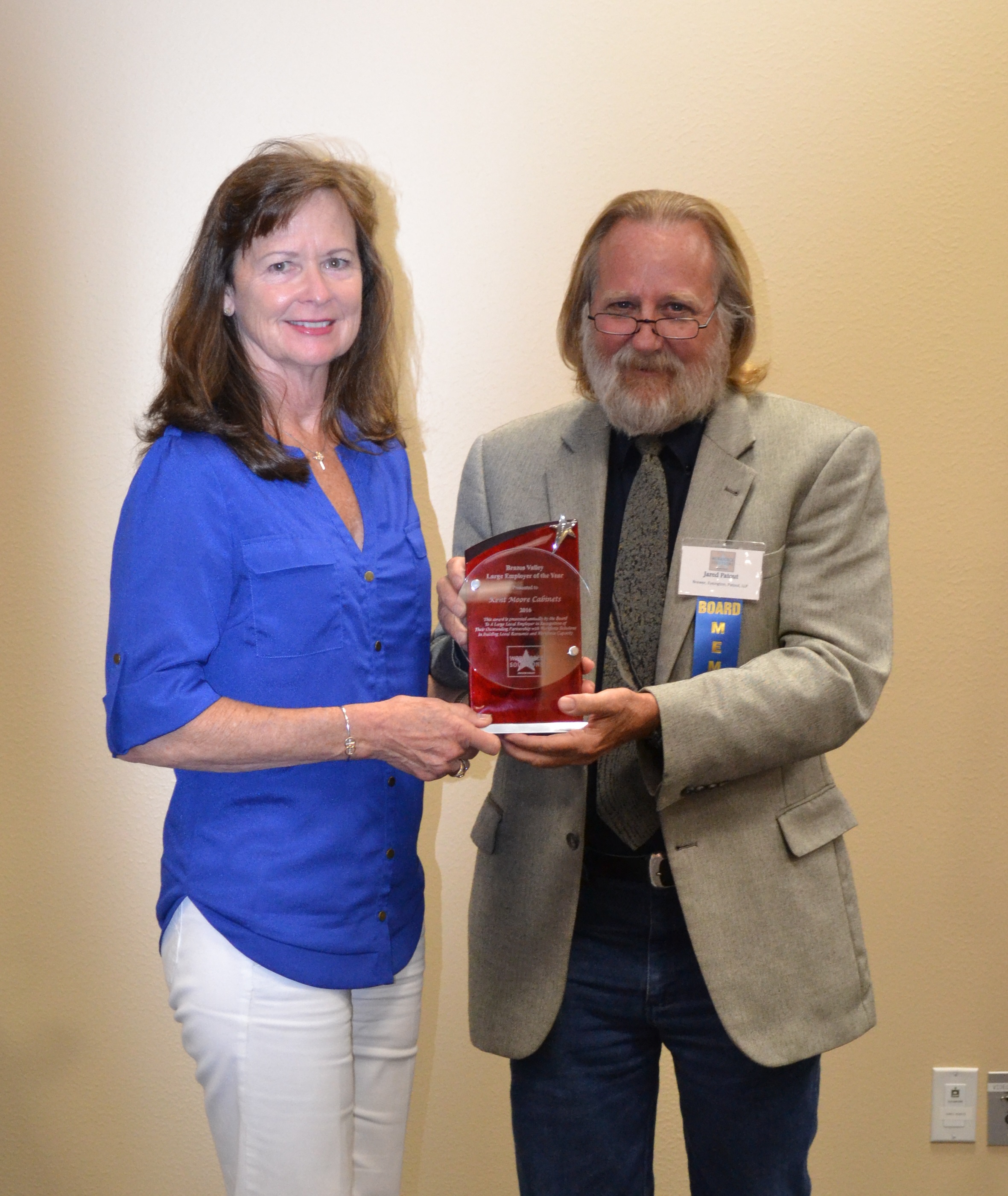 Kent Moore Cabinet's has helped shape and participated in the following Workforce Solutions programs: Teacher Externship, Youth Internships, HYPE Career Expo, Site-Based Literacy, Skills Development Grants, Economic Development, and in the Community Business Leaders Partnership. The company's commitment and willingness to participate in these programs have contributed to the development of a more diversified and skilled labor force for the Region.
Pictured Above: Teresa Galligher, Vice President – Kent Moore Cabinets; Jared Patout, Workforce Solutions Chair
2016 Small Employer of the Year
RDM Pros, Inc.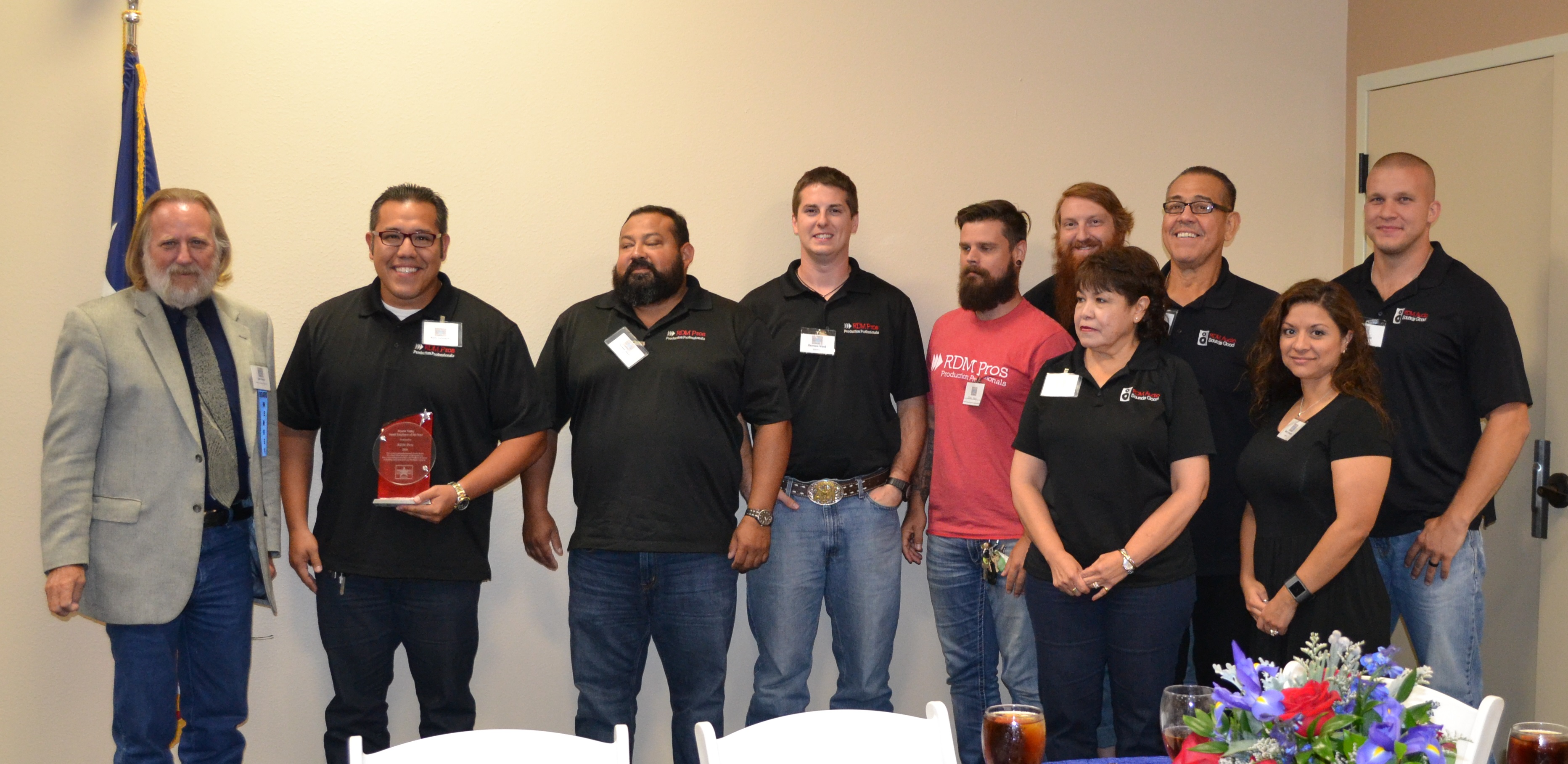 RDM Pros Inc., has participated in the HYPE Career Expo highlighting the retail and hospitality industry for the Region. RDM brings a range of occupation within the industry that schools and students had not investigated as a career path. By attending the HYPE Career Expo, the students of the Brazos Valley were given the opportunity to discuss the range of skills, education, salaries, and career paths of this company. RDM's business of providing quality sound and lighting techniques with a skilled staff provide services to the Region and, in turn, provide revenue to the Brazos Valley area.
Pictured Above: Jared Patout, Workforce Solutions Chair with RDM Pros Staff Rudy Grimaldo, Jr. – Owner, Thomas Mata, Harrison Ward, Justin Young, Stanley Thomson, Rudy Grimaldo, Sr., Mark Bowman, Lucy Grimaldo, and Kathy Arrendondo
2016 Employer of Excellence
KAGS
KAGS is being recognized as an invaluable partner with Workforce Solutions Brazos Valley (WSBV). KAGS extensively promoted Brazos Valley's – Hiring Red, White, and You Hiring Event as an in-kind donation demonstrating their commitment to serve those who have served our country. KAGS has invested in the future labor force of our community by assisting on the Steering Committee, promoting and participating as an exhibitor in our HYPE Career Expo. They have been a valued business partner assisting with community outreach services as a major media source for communications in the Brazos Valley Region.
Pictured Above: Jared Patout, Workforce Solutions Chair with Roby Somerford, KAGS Station Manager
Workforce Solutions Brazos Valley would like to congratulate this years winners as well as thank all Brazos Valley employers who are working to expand the local labor force.
For more information about the services available for Businesses through Workforce Solutions Brazos Valley, please call 979-595-2801 ext. 2191.