Move Ahead with Adult Ed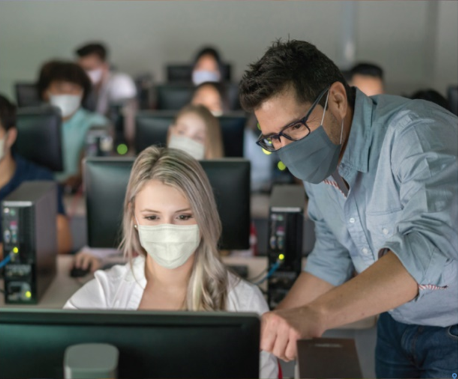 Move Ahead with Adult Ed
Adult education programs help you prepare for your career. Training can help you prepare for college. Training can also help you prepare for work and increase income.
Learn Skills to Get Back to Work
The Texas Workforce Commission has 98 adult education providers statewide. Programs offer skills training to get you back to work. English language. Literacy and numeracy. High school equivalency. In-demand industries.
Virtual and In-person Learning
In 2020, most providers began offering classes online. Many providers continued to offer classes in person. Some offer both online and in person. Instructors follow social distancing rules and comply with local mandates.
Student Testimonials
"Pursuing adult education has set up pathways for multiple careers for me and has made a huge impact on everything I've done. This was the fastest way to get me where I needed to be." – Bentley Gamblin, Amarillo College
"This is the opportunity I was looking for. I'm so proud that I did this and got a job that I want."– Jocelyn Repato, SISD Community Education, El Paso
Adult Education Can Increase Earnings
$9,620 How much more a person with a high school diploma or equivalent earns, on average, than a non-graduate.
63 % The percentage of all U.S. jobs that require at least a high school diploma.
73% The percentage of adults who attained a high school equivalency (HSE) or another indicator of high school completion after participating in federally funded HSE programs and taking all of the HSE subtests.1
43,000,000 The number of working-age adults in the U.S. who lack the skills needed for many of the nation's fastest growing and highest paying jobs.2
1 "Congressional Justification (2019). Career, Technical, and Adult Education Fiscal Year 2020 Budget Request." U.S. Department of Education • 2 Mamedova, Saida and Emily Pawlowski. "Adult Literacy in the United States." Data Point, National Center for Education Statistics, July 2019, https://nces.ed.gov/datapoints/2019179.asp.
Find a Program Near You: http://bvjobs.org/programs/adult-education-literacy/ or https://tcall.tamu.edu/search.aspx