Scholarship Opportinuty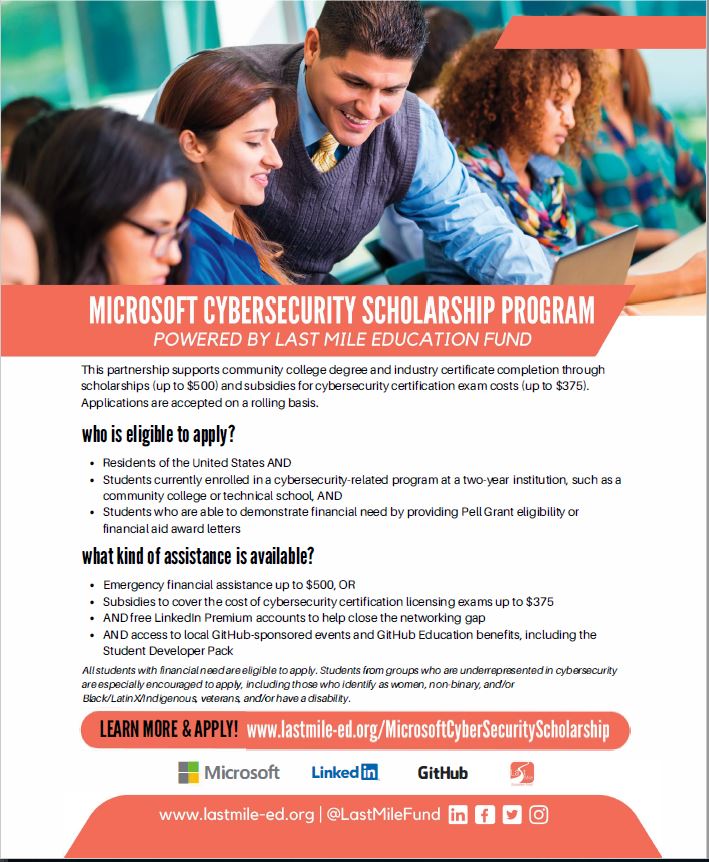 Mircosoft Cybersecurity Scholarship Program
This partnership supports community college degree and industry certificate completion through scholarships (up to $500) and subsidies for cybersecurity certification exam costs (up to $375). Applications are accepted on a rolling basis.
Who is eligible to apply?
• Residents of the United States AND
• Students currently enrolled in a cybersecurity-related program at a two-year institution, such as a community college or technical school, AND
• Students who are able to demonstrate financial need by providing Pell Grant eligibility or financial aid award letters
What kind of assistance is available?
• Emergency financial assistance up to $500, OR
• Subsidies to cover the cost of cybersecurity certification licensing exams up to $375
• AND free Linked In Premium accounts to help close the networking gap
• AND access to local GitHub-sponsored events and GitHub Education benefits, including the Student Developer Pack
All students with financial need are eligible to apply. Students from groups who are underrepresented in cybersecurity are especially encouraged to apply, including those who identify as women, non-binary, and/or Black/LatinX/lndigenous, veterans, and/or have a disability.
LEARN MORE & APPLY! http://www.lastmile-ed.org/MircosoftCyberSecurityScholarship
SEE FLYER FOR MORE DETAILS